Emerald Shores: the official strategy guide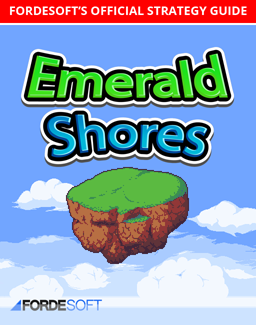 I want to first give a huge thank-you for taking the time to play Emerald Shores.
Growing up, I always enjoyed digging through strategy guides -- printed or on websites like GameFAQs -- learning how to take on sidequests, recruit optional characters, and breed golden Chocobos. It always seemed to make the experience more exciting.
That's why I decided to sit down and write this guide as a companion piece for Emerald Shores.
With this "book" at your side, you'll be able to tackle not only the main content of Emerald Shores, but also all of the extra, optional content and sidequests I threw into the game.
Whether you're having trouble finding the last stat-boosting accessory for your pet Bootworm before you send him to the races, or you need some advice on maximizing your cashflow in the Farmtrepreneuer minigame, you'll find the answers here.
- Josh