Last November, I released Super Blackout on PlayStation Mobile.
Due in part to the closure of PlayStation Mobile (which just happened last week), I decided a few months ago to start working on an upgraded, enhanced port of Super Blackout for the main PS Vita platform.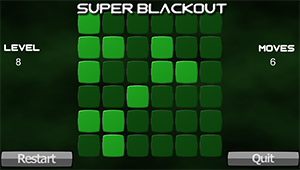 It's virtually finished now, and I'm in the process of getting it ready for release, which currently looks to be sometime around August or September.
Some of the new features in this version include:
New graphics
PlayStation TV support
Gamepad controls (in addition to the existing touchscreen controls)
Trophies
So this is really the "definitive" version of the game.